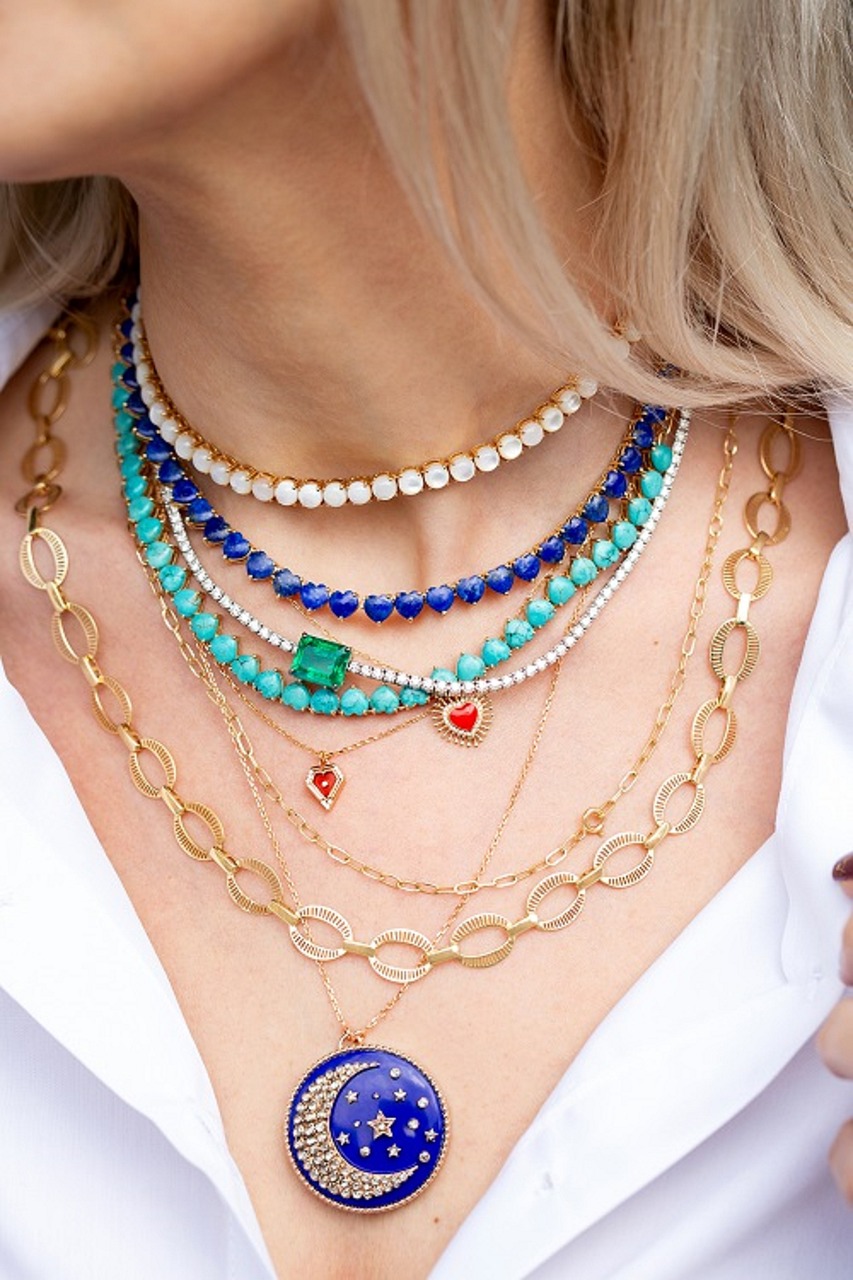 Layered necklaces: a stunning statement that adds sophistication and elegance to your outfit.
While layering necklaces in different styles and shapes is a gorgeous fashion choice, it can be challenging for even the best fashion icons to achieve. Wondering how to pull off layered necklaces to look like a fashionista? Here are our top tips to achieve a perfect layered look:
Do Combine At Least 3 Necklaces
A perfect tip for achieving a layered necklace look is wearing at least 3 necklaces at once. If you wish to wear more, you could because the more variety, the better. However, if you feel slightly overwhelmed about stacking up different necklaces at once, start with 3. We recommend a choker, a princess-length chain with a stunning pendant, and another necklace in a similar metal.
Don't Get Tangled Up in Layers
Wearing multiple necklaces increases the chance of getting tangled up with your clothes, hair, or other chains. A good tip is getting dressed up and clipping your hair up before you start layering your necklace. It would also help to store your necklaces in different pouches to prevent them from tangling when not in use.
Do Combine Different Chain Styles
In our expert opinion, the trick to layering necklaces is mixing and matching different styles. Pair a chunky choker with a pendant necklace, and add some gemstones to the mix. Don't be afraid to mix contrasting necklace styles in different weights, textures, and colors to achieve visual variety. Your pearls, gemstones, and diamonds can all work together so be as creative as possible with your neck stack.
Don't Choose Necklaces of The Same Length
One of the tricks you should keep in mind when styling your layered necklaces is the length. Choosing necklaces of the same size and length for your layered look defeats the purpose of the style. It's best to go for a graduated look by picking necklaces of different lengths. We recommend starting with a base like a choker or princess length and then building your look from that. Wearing necklaces of different lengths will also prevent your jewelry from tangling up.
Do Go For Layered Necklace Sets
We know how challenging it can be to mix necklaces for a layered look, and that's why we always recommend going for layered necklace sets. You can easily find them online and achieve a layered look quickly. Layered necklace sets are simple and perfect if you want a layered look already mixed and matched by fashion gurus.
Don't Fall For The Single Metal Rule
You might have heard the recommendation of wearing just a single metal for your layered look. As for us, we believe this isn't a hard and fast rule, so if you think you can mix up your gold with silver, yellow gold, and rose gold, go for it! Follow your curiosity and have fun spicing things up with your layered necklaces.
Our last tip for layering your necklace is to have fun with it. Sometimes, you might look in the mirror and question your choice but don't be discouraged. There is no right or wrong way to layer your necklace, so have fun expressing your individuality.